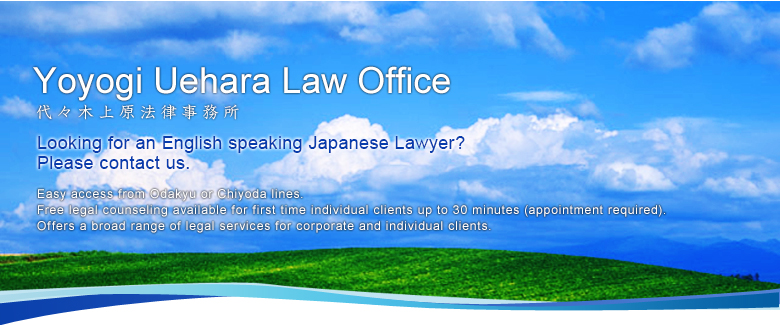 Are you in legal trouble? Please don't hesitate to contact us.
Free legal counseling is available for first-time clients for up to 30 minutes upon appointment.
Legal counseling is offered normally between 9:00 and 19:00 on weekdays.
However, legal counseling is also available early morning (from 8:00), late at night (until 21:00), and on non-business days (weekends and national holidays) upon request. Please call us for an appointment.

We will explain whether the problem is a matter that can be handled by a lawyer, as well as what are the expected costs, in a clear, easy-to-understand manner.
We can normally present a basic direction in solving clients' issues during 30 minutes of free counseling.
English counseling is also available.
Counseling for the Civil Legal Aid of the Japan Legal Support Center (JLSC) is also available.

Major practice areas
For corporate clients:general civil cases, labor cases, and corporate legal services (Companies Act, M&A, financial and securities transactions, business succession, restructuring, and establishment and operation of funds)
For individual clients:general civil cases (debt settlement, voluntary bankruptcy, inheritance, divorce, land and building leases, damage claim, etc.), criminal cases
For non-Japanese clients:international divorce, status of residence





◆ An intervention notice is sent to the relevant money lender(s) immediately after we accept the client's case to notify that we represent the client.
◆ A retainer fee can be paid in installments.
◆ Our retainer and contingency fees are based on the standards established by the Tokyo Bar Association for credit card and consumer finance cases (revised January 1, 2011).
◆ We offer face-to-face consulting with clients to choose and implement the best possible solution that reflects their intention.
◆ Whenever we receive over-paid money back from money lenders, we pay it back to clients in each instance.





| Top | What's New | Office Profile | Lawyer Profile | To Individual Clients | To Corporate Clients | Contact |

Grand Mer Uehara 302
3-32-6, Nishihara, Shibuya-ku
Tokyo 151-0066, Japan
TEL 03-3485-5547 FAX 03-3485-5927 / Office Contact Details

Copyright 2016 Yoyogi Uehara Law Office All Right Reserved.